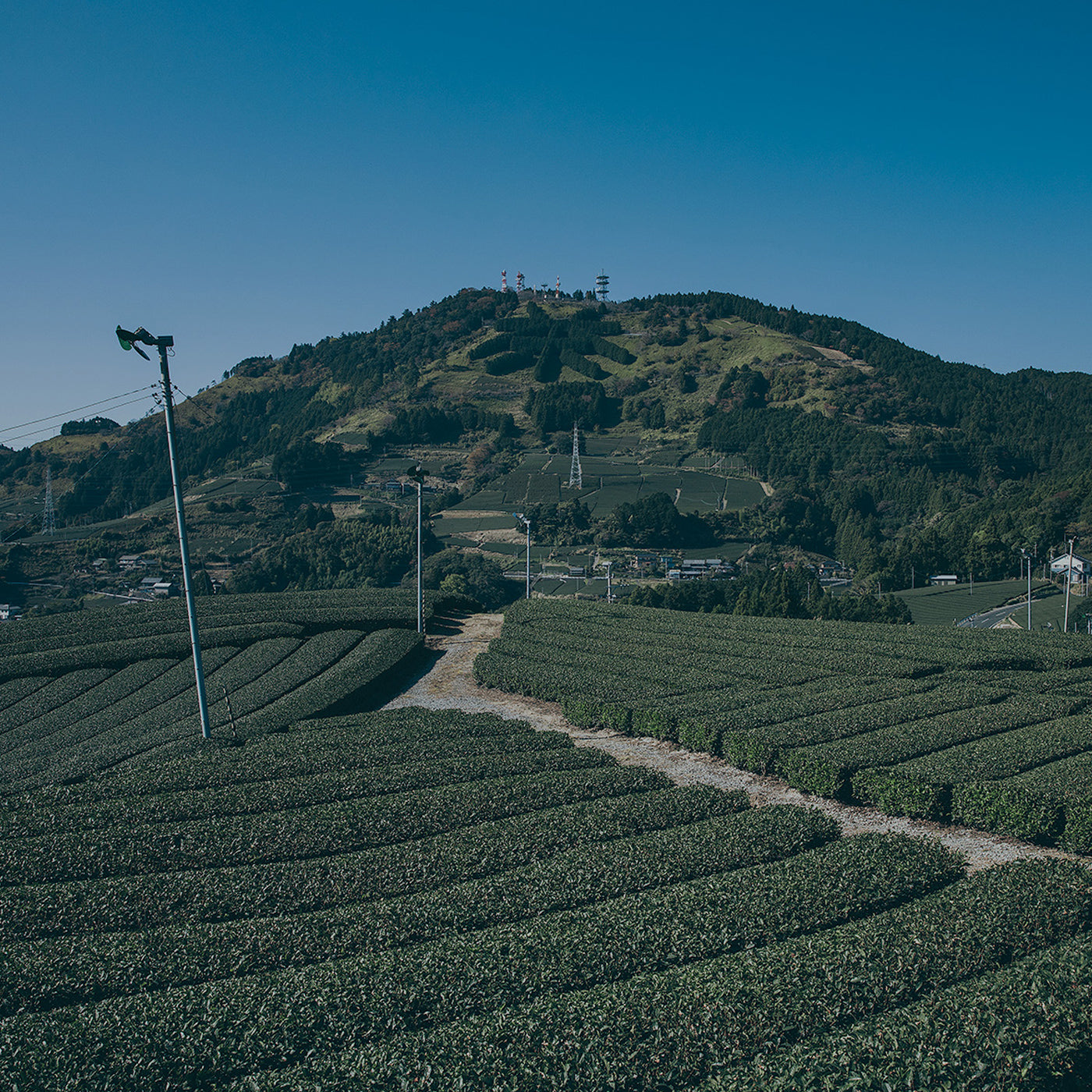 Have you ever seen the word "tea" that clearly emerges on the mountain surface just around Kakegawa from the train window running on the Shinkansen and the Tomei Expressway and the sky above the airport? The horizontal bar of this brown character, Kusakanmuri, is 130 meters. Some locals say that you can tell your position by the direction and size of the word "tea".
The history of this "tea character" goes back to 1945. At that time, the tea industry association and the villagers worked together to plant a pine tree on the steep slope of Awagatake. After that, the first pine tree was damaged by pine worms and was replanted with cypress, but even now, regular maintenance is carried out to maintain beautiful and magnificent brown characters.
This time, we interviewed Mr. Toshishi Sugiyama (Chaji no Sato Higashiyama / Director), a local heavyweight who has been involved in Higashiyama tea for generations, about this Higashiyama landmark "Chaji". ..
Interview with Toshishi Sugiyama

When I was my grandfather, I heard that the village mayor at that time started calling out. He lined up with a rope with white paper, looked away from the mountain on the other side, signaled with a flag semaphore, repeated adjustments, and planted trees while looking at the balance. It was a lot of work because there were no mobile phones or walkie-talkies.

When I was damaged by pine worms around 1985 and replanted them with cypress, I remember working with the people in the area for two days. Maintenance such as mowing is carried out by allocating places in the village.

The slope with this brown letter that looks gentle from a distance is 37 degrees. The ski jumping angle of the Olympic ski jump is 35 degrees, so it's about the same, and it's actually close to a cliff. Therefore, weeding is not easy. However, when grass grows, the word "tea" does not clearly appear from a distance, so we are working hard.

This "tea character" is the spirit of those involved in Higashiyama tea, so to speak, "spirit". Like the tea-grass farming method in Higashiyama, I think it is an important thing that must be steadily protected by human hands.
Higashiyama, a tourist destination
It is a casual hiking course that you can climb from "Higashiyama Ippukudokoro" where Mr. Sugiyama is visiting to the summit of Awagadake where this "tea character" is located in about an hour. Awagadake is 532 meters above sea level, and on sunny days you can see the Izu Peninsula, Enshu Nada, and Mt. Fuji from the top of the mountain.
This "tea character" shows a beautiful and unique landscape for each season, such as cherry blossoms in spring, over a bright green tea plantation in the season of new tea, and snow makeup in pure white in winter. Hiking is also recommended while watching the scenery. Also, if you find "tea letters" in the train window, please take a closer look at the spirit of those involved in tea-grass farming.
"Higashiyama Ippukudokoro" is a community-based shop at the foot of Mt. Awagadake in Higashiyama, Kakegawa City, and Mr. Sugiyama is one of the founding members. It is also a locally manufactured Higashiyama tea information transmission base.
▼ Kakegawa City Tourism Site "Awagadake"
https://www.city.kakegawa.shizuoka.jp/kanko/spot-list/awagatake.html
▼ Kapposhi Terrace (Awagadake Globally Important Agricultural Heritage Tea Grass Field Terrace)
https://www.city.kakegawa.shizuoka.jp/kanko/spot-list/12456.html