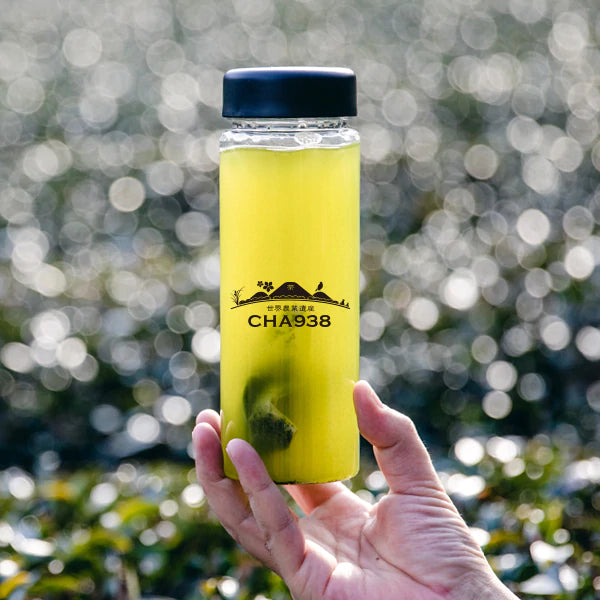 How do you brew tea in a tea bag?
What do you think of when you think of a tea bag for tea? Many people think of a flat type with a string.
The tea bags handled by CHA938 are triangular tea bags (Tetra Pak) without strings. The type with a string is like putting hot water and a tea bag in a tea cup and holding the string to make a chapter. On the other hand, the stringless type is suitable for putting in a bottle or pitcher. It's just right to put it in my bottle when you go out.
This time, I tried brewing tea from a tea bag with water, so let's introduce it.
How to make watered tea
This time, I tried using "Matsushitaen's Organic Aged Bancha".
Speaking of Shizuoka, green tea! I have a strong image, but this Matsushitaen's organic aged bancha is recommended for those who like hojicha.
1. Immediately after putting water and a tea bag in the bottle
It's still before I flirt.
It's like clean water and a tea bag, so it doesn't feel like tea at all.
▼
2. Pretend for about 30 seconds
The color is like tea!
I drank a little, but the taste was "light ...". I felt that I wouldn't like it unless I put it on a little more.
▼
3. 1 hour left
The color is darker than the second one.
When I drank it, it felt like "Yeah, it's tea!" The taste is clearly strong and it is in a very tasty state to drink.

▼

4. After another 1 hour (2 hours have passed)
Compared to the 3rd sheet, the color is slightly darker. When I drank it, I felt that it was thick and just right! I felt that I liked this much.
I like strong tea, so I continued to enjoy the change in the taste of tea by leaving the tea bag in it. After leaving it for about 3 hours, it became a little too thick, so I took out the tea bag and added a little water.
You can leave the tea bag in the tea bag until you drink it, but you can take it out when you get the taste you like.
The difference between watering and hot water is that watering is sweeter and has lower caffeine than brewing with hot water. Put it in the morning and drink it on the go! If you have enough time, we recommend draining water!
I want to drink immediately after putting in a tea bag! For those who say, it is recommended to take out hot water, or put it in a slightly thicker water first and add water.
Also, I would like to introduce on the blog how to use hot water and both hot and cold water.